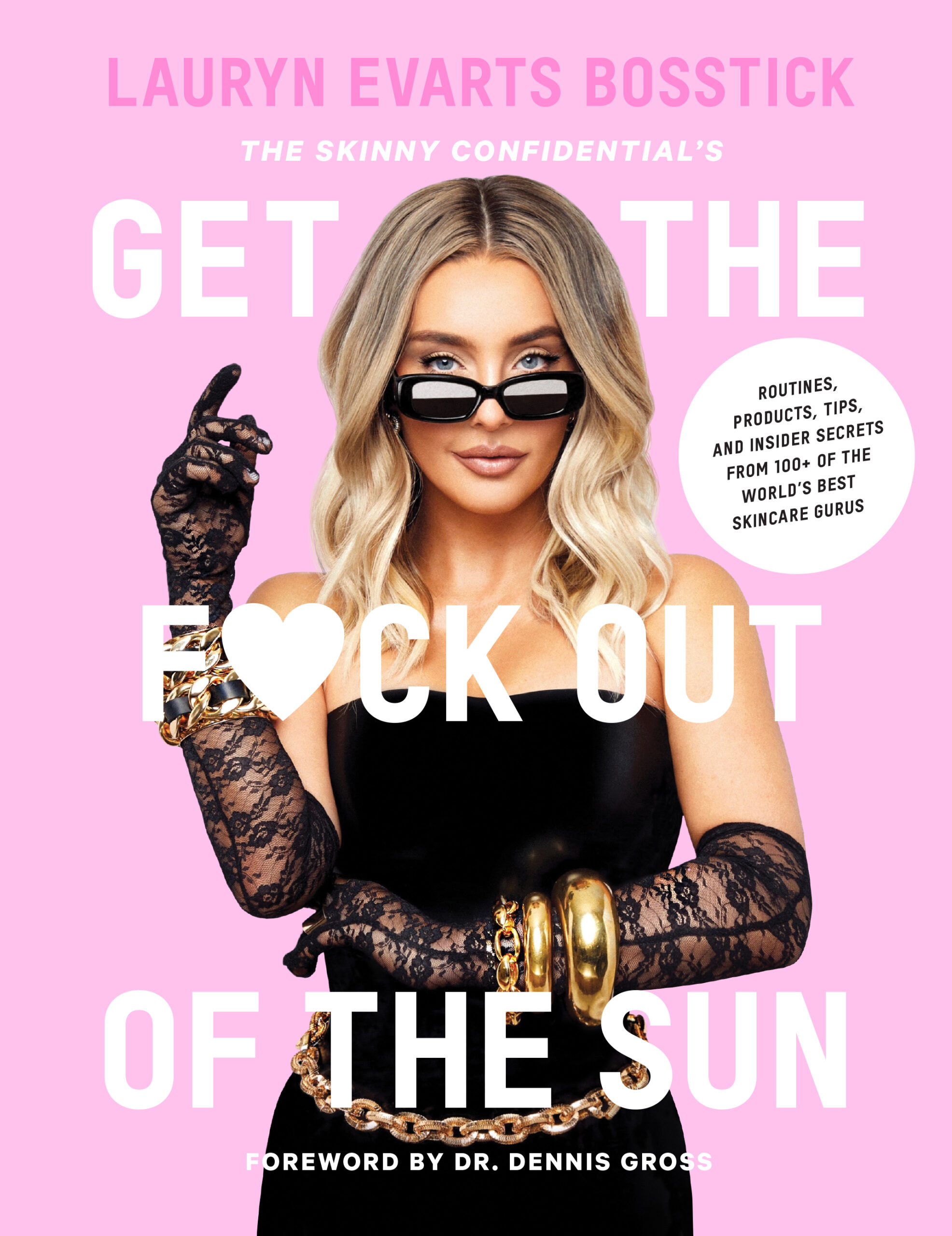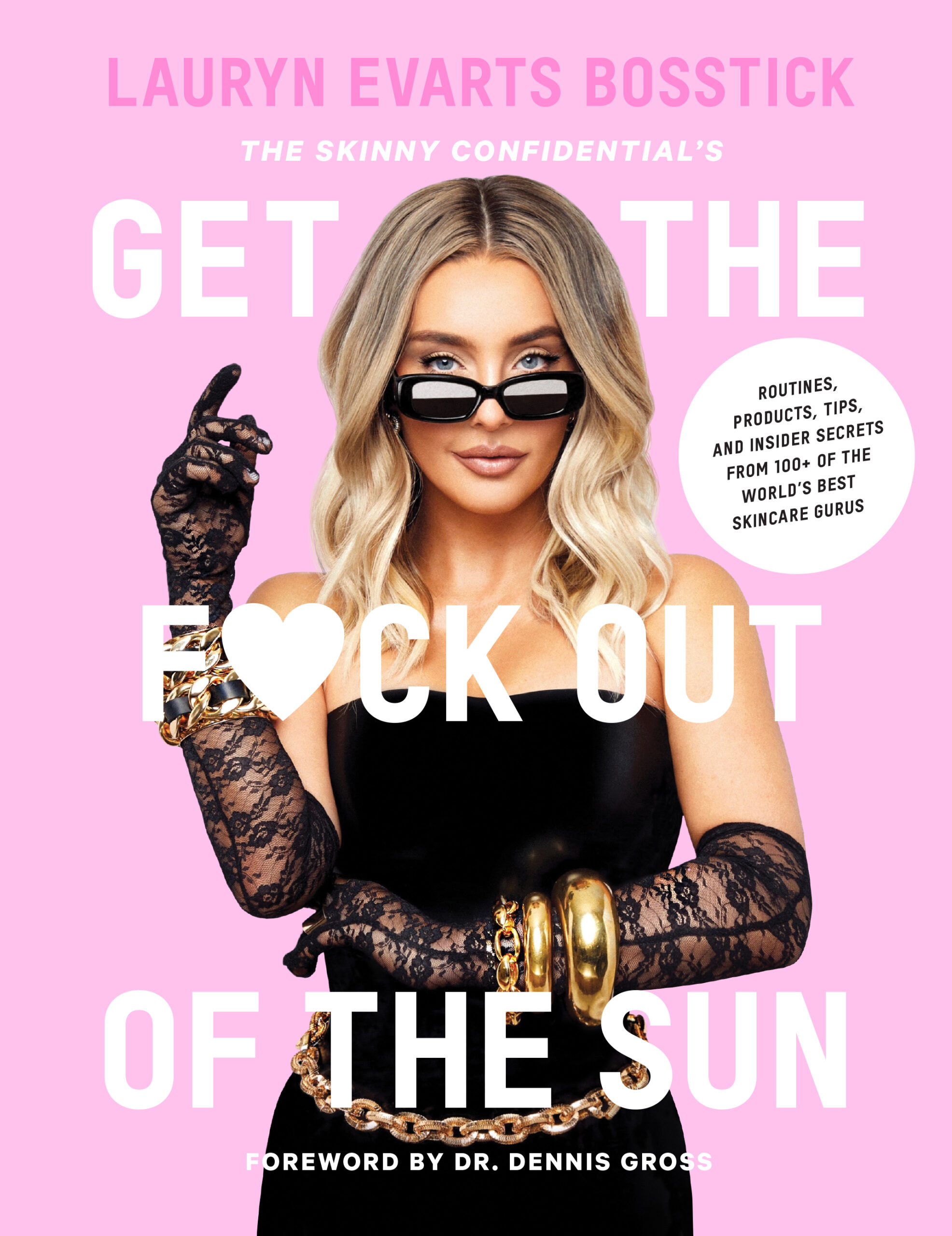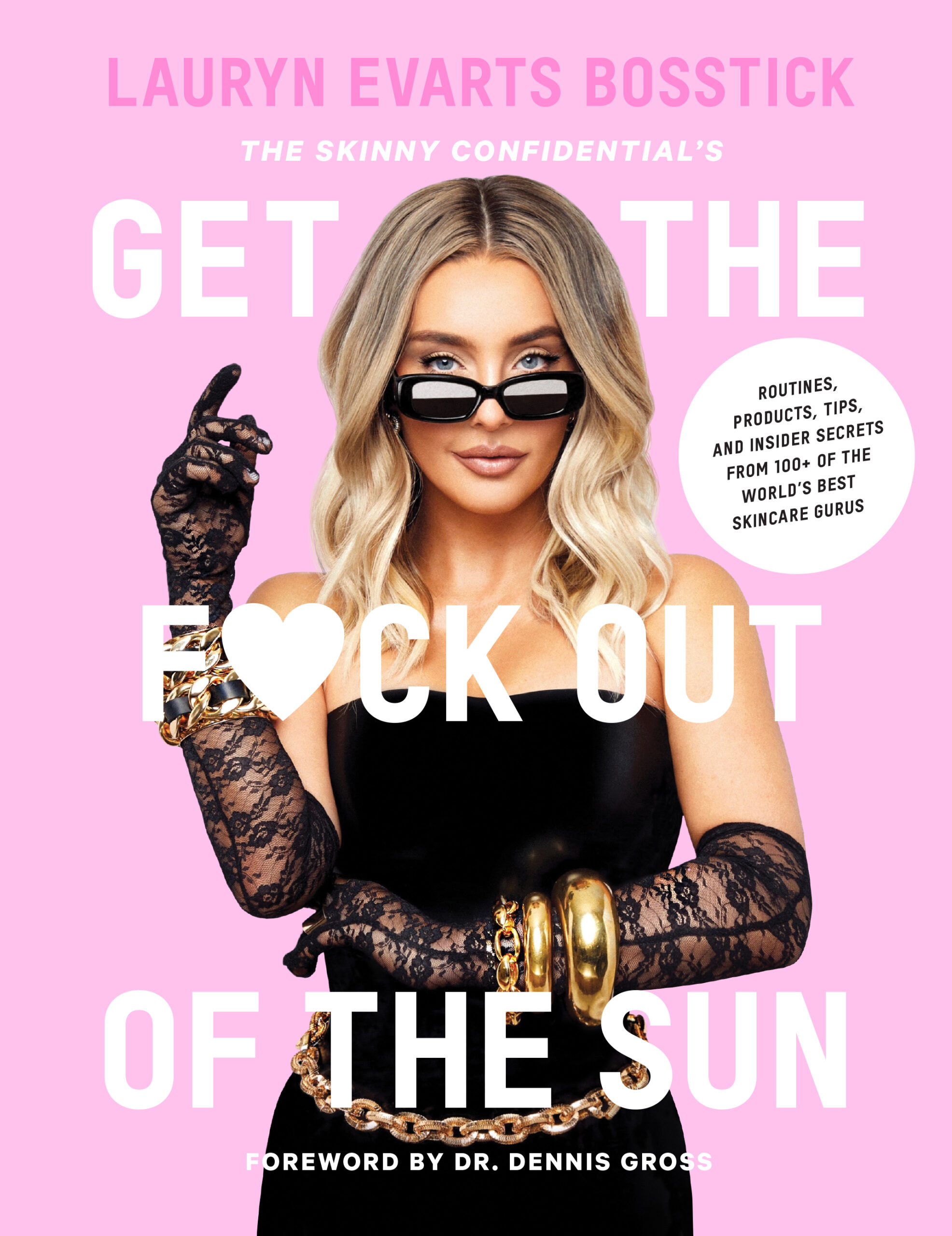 Available Everywhere Books are Sold:
The in-your face go-to skincare guide from mega influencer Lauryn Evarts Bosstick, founder of The Skinny Confidential brand.
The Skinny Confidential's Get the Fuck Out of the Sun is the practical, yet incredibly fun and accessible, preventative skincare bible by lifestyle guru Lauryn Evarts Bosstick.
We all have our ever-growing list of skincare questions:
What products are essential for our nightly routine?
Will a jade roller actually take care of hungover, puffy eyes?
Why is sunscreen so important, and does it really need to be applied every day?
What oils and serums are best for glowy, dewy supermodel skin?
Lauryn dives into all this and more with a voice reminiscent of a friend at a boozy brunch who has a little more experience (and a lot more research) under her belt.  From product and beauty tool recommendations to Lauryn's personal experience with facial massage, fillers, Botox, lymphatic drainage, and cryotherapy, this authoritative and cheeky book is essential for a DIY generation that's all about shaking up old ideas about skincare and transforming the beauty industry.
Lauryn interviews other top influencers such as...
Kristin Cavallari, Patrick Starrr, Marianna Hewitt, Lauren Ireland, Shea Marie, Chriselle Lim, Jillian Michaels, Stassi Schroeder, Aimee Song, the Ladygang, Mandy Madden Kelley, Amelia Gray, Delilah Belle, Bobbi Brown, and Justin Anderson. Plus, skincare doctors and mavens including: Dr. Dennis Gross, Dr. Jason Diamond, Sonya Dakar, Georgia Louise, and Dr. Barbara Strum & more.

RAVE REVIEWS FOR THE SKINNY CONFIDENTIAL'S 'GET THE FUCK OUT OF THE SUN'
Melissa Wood
The Skinny Confidential is as raw and real as it gets. Lauryn has a way of connecting with her audience and making you feel like you are her best freaking friend. Anything The Skinny Confidential covers...I'm all eyes and ears because she doesn't miss a beat when it comes to sharing information and resources that are impactful, and actually make a difference. Being apart of this book is such an incredible honor. The love and respect I have for Lauryn and the community she's built is unbelievable. To this day...I still have girls coming up to me daily about being on her podcast. It without a doubt changed the trajectory of my buisness and I'm forever grateful to be apart of this diehard community she's built. - Melissa Wood-Tepperberg of Melissa Wood HEALTH
Becca Tobin
If there's one person I turn to most for all things skin and beauty, it's Lauryn. I believe that The Skinny Confidential has such a devoted fan base because Lauryn is a woman in this space who's as honest as she is informed. This book is the holy grail when it comes to skincare, and it was an honor to be asked to share my own skincare tips and tricks! - Becca Tobin, actress & 1/3 of The Lady Gang
Erica Stolman
Lauryn & I have been BFF's since we were braces wearing teenagers- and even then, the girl had a bizarre wealth of knowledge on all things beauty. Whether she was telling me which Lipsmacker flavor is the best (then) to chin exercises to try (now) she is my #1 source for the latest & greatest in the world of beauty and skin. I have been blessed to have her tell me to sit up straight, relax my jaw, and get TF out of the sun for years, & now, you too can have access to all of Lauryn's best secret tips as well as game changing advice from others who really know their sh*t when it comes to looking and feeling your absolute best. A true BEAUTY BIBLE. - Erica Stolman of Fashionlush
Weslie Christensen
From lube to boobs, and health to wealth...I have NEVER found such informative yet practical lifestyle content anywhere else other than The Skinny Confidential. Lauryn is a true girl's girl in every sense of the word. She's a woman driven to help other women, and with her, what you see is exactly what you get. She is intelligent, fact driven, vulnerable, and always the first to drop all the latest and greatest from beauty all the way down to spirituality. I trust her, but more than that, I adore her. I can honestly say that being a long time reader of the Skinny Confidential and listener of the Him & Her podcast has encouraged me to step out of my comfort zone and pushed me to start living the life I always dreamed of. Thank you, Lauryn! - Weslie Christensen of Wake Up With Weslie
Ingrid De La Mare-Kenny
Lauryn Bosstick is a human database for beauty, particularly skincare, wellness, productivity & lifestyle hacks. She has this innate gift for sharing every single bit of goodness, advice & knowledge she has acquired, tried, tested and approved on herself and for herself. This book is a perfect homage to Lauryn's body of work and how much information, resources and knowledge she has garnered since her humble beginnings as a blogger (while hustling as a bartender and barre instructor). Lauryn sought out to build a community that would come to her as a trusted unbiased source for beauty and serious skincare and she has succeeded. This book is an encyclopedia "go-to" resource from all the knowledge, trial & errors and unique approaches Lauryn has acquired and practiced, as our very own guinea pig if you will. The reason I count Lauryn as one of my closest friends is because she goes above and beyond to give rather than receive. She is such an unconditional giver and this book is certainly a corroboration of that unique trait. Today millions of women adore her but above and beyond trust her because she never disappoints in providing the "skinny" the secrets on beauty and skincare. She has certainly changed my perspective on it and if someone can convince me to "get the FUCK out of the sun" it's Lauryn. - Ingrid De La Mare-Kenny of Gangster Chic Brand
Sivan Ayla Richards
Lauryn and The Skinny Confidential community has been my go-to for so many resources over the years. I trust Lauryn implicitly when it comes to skincare, as she provides a no-bullshit approach to product reviews and tutorials, which is rare to find these days. The online world can be so saturated with information but Lauryn has always managed to break it down in a relatable, realistic, and humorous way on her blog, Instagram, and podcast. Aside from the many indulgences I've now added to my own personal routine (thanks to Lauryn), I'm always impressed by the perfect pink aesthetic that accompanies even the most mundane subjects of life. Lauryn is truly skilled when it comes to branding and I've learned a lot from her that has helped when starting my own brand. I've been lucky to form an offline relationship with Lauryn and value what she has created as a follower, listener, and now friend. I cannot wait to see what is next for The Skinny Confidential! - Sivan Richards of LUX UNFILTERED
Jordan Younger
I have such vivid memories of collaborating & doing blog swaps with Lauryn back in the day... I mean nearly a decade ago when blogs were brand new & most people still said, "What the heck is a blog?!" Since then it has been amazing to watch The Skinny Confidential flourish into such an incredible, booming brand with an aesthetic that is truly like no other. The BEST part is that Lauryn as a person has not changed one bit, her heart is so pure & she lifts other women up in the most beautiful way. She is such a real one which is so reflected in her brand. Not to mention, is there anyone else in the world I would go to for SKIN TIPS above Lauryn? No!! She glows as much on the inside as she does on the outside, and when she gives a resource for skin (or books or hair or anything really) I literally run to implement it. I have found so many of the best beauty & life hacks through her. This book, like all things TSC, is a true game changer & I cannot wait to flip through every page! - Jordan of The Balanced Blonde
Scotty Cunha
I met The Skinny Confidential for the first time when we did a haircut live online! Not only did she steal the show, she helped me look amazing while doing it. Seeing her grow her following being the queen of content and now having a BOOK makes me so happy and I wouldn't expect anything less!!! - Scotty Cunha, celeb hairstylist & owner of Rosé Rescue
Farrah Britt
As a skincare fanatic and die hard TSC fan, I have been SO beyond EXCITED for this!! Lauryn back at it again with an entire book based on THE BEST tips/tricks/hacks for the skin?! What more could we want! I grew up in a family of women that really stressed the importance of SPF, not putting your face/chest/body in the sun, and how valuable taking care of our skin is. This is hands down going to be my new skin bible as I'm rest assured that Lauryn has done all the work for us, down to the pore-sized micro bits. I don't always have the time to do my own research on the next best product, gizmo, gadget, etc, so am grateful to the TSC for always vetting and sharing the BEST information & products. Can't wait to see how I glow after this! - Farrah Aldjufrie of The Agency
Arielle Lorre
In the twelve years that Lauryn Bosstick has been creating content, both she and her platform, The Skinny Confidential, have become synonymous with skincare. In fact, it would be difficult to think of someone else in her space who has so determinedly committed themselves to learning about best practices—and tested them out, too. Aside from researching and trying out any and all skincare products—and developing her own successful collection with Elemis—she is known for her commitment to avoiding the sun. Fingerless UV protective gloves for manicures? She's doing that. Obnoxious sun visor? A must. Violet toned spray tan? Always. If anyone were to be the authority on how to stay glowy and youthful at any age, it's Lauryn—and she has masterfully leveraged her access to skincare experts, gurus, insiders and devotees alike to deliver the absolute best and most well rounded tips to her audience and readers in her new book, "GET THE FUCK OUT OF THE SUN." It's the *ultimate* resource and not only that but in typical Lauryn fashion, it will look amazing on your coffee table or vanity, too! - Arielle Lorre of The Blonde Files
Molly Sims
Lauryn is my go-to for all things beauty. She can quite literally make a beauty product out of anything. Her raw honesty makes her the beauty BFF everyone has always wanted...and now can't live without. With interviews from top beauty influencers, "Get the F*ck Out of the Sun", is pretty much a skincare Bible. Lauryn covers every product and treatment that ACTUALLY WORKS. Have skincare questions? Read the book. It will have your answers. - Molly Sims, actress & entrepreneur
Kenzie Burke
I respect and look up to Lauryn more than anyone. She is just it. Her dedication to sharing detail, truth and her willingness to be open and honest is something I will always admire. If you know Lauryn you know there is no fluff involved and you will be exposed to an abundance of information that she gathers from the best of the best. I have no doubt that this book will be FILLED with valuable information that will be life changing and am honored to have been a small part of this book. I love watching you evolve, create, grow and provide such value to this world! - Kenzie Burke, entrepreneur & influencer
GET THE FUCK OUT OF THE SUN: A Limited Series Podcast by Lauryn Bosstick
Want to know what foods you should eat for healthy, glowing, plump skin?
Interested in non-invasive, preventative treatments and procedures?
Looking for a hack to use tools you already have at home — or just ones you can grab on your next drugstore run?
Filler, Botox, plastic surgery?
WE GOT YOU.
In this new, sparkly limited series podcast, "GET THE FUCK OUT THE SUN", she sits down with some of the top experts in the industry to go deeper into all things beauty and wellness. Taboo conversations, no holds barred topics, and of course, lots of realness…all served to you on a pink platter.
Get ready to hear from…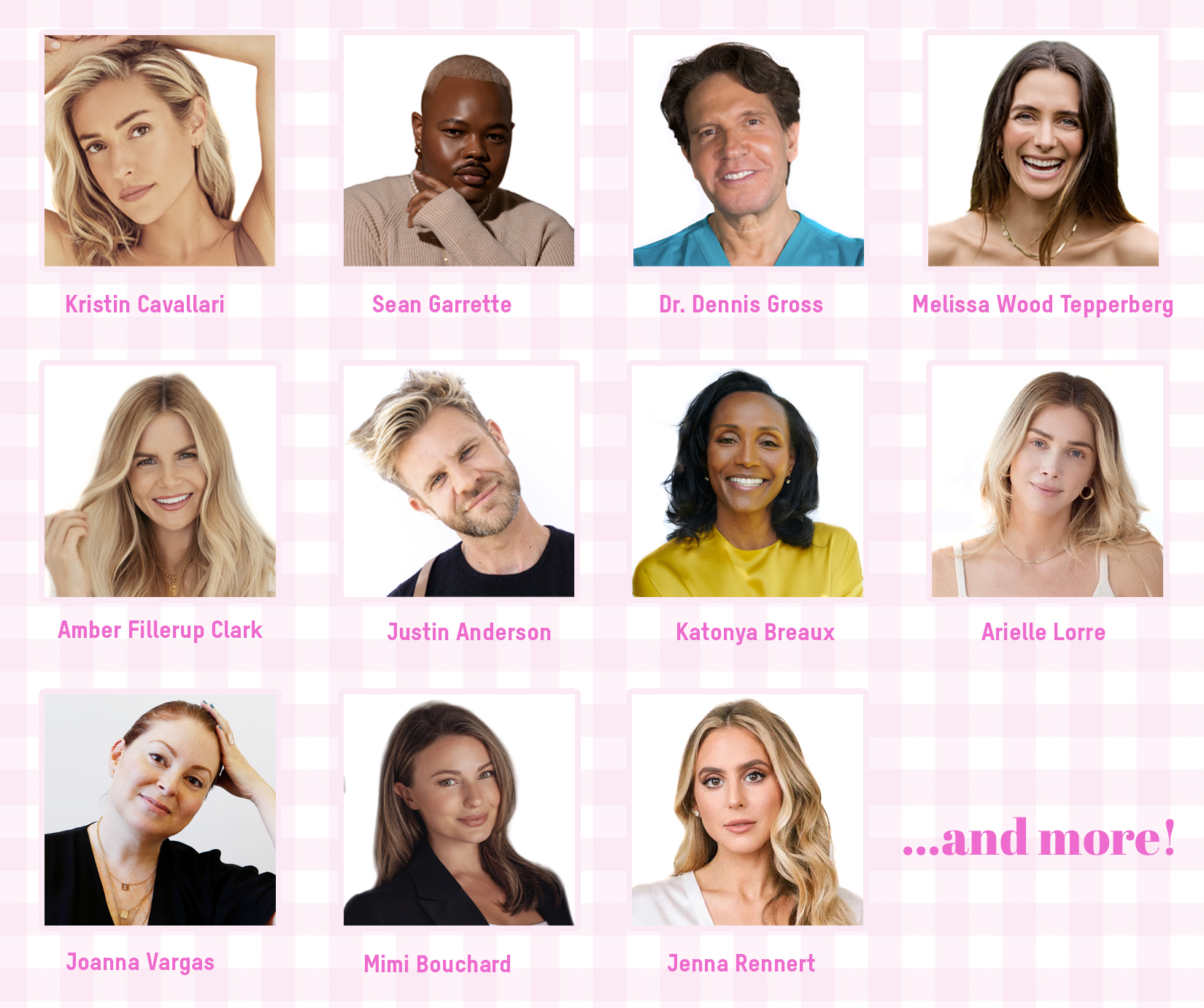 NO questions or topics are off-limits. So grab a skinny margarita because your favorite beauty gurus will be giving you the SKINNY.
New GTFOOTS episodes are available every Wednesday beginning on September 22nd for a limited time anywhere you listen to podcasts.
Cheers! x